Frilly Ruffle DragonEdit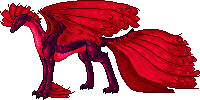 Frilly ruffle dragons are long winded enemies with ribbon dragons, often getting into fights not of physical strength but of show, flashing up the frills on their head and tail to show that their beauty is unmatched. They are clumsy fliers, though, and if one attempts to show off its beauty by eclipsing the sun, they are certain to lose aganst the ribbon dragon. They feast primarily on fruit and small mammals, though they have discerning tastes and often will not eat unless they are given a meal prepared with the finest ingredients. They live around the grounds of the castle, and no truely wild specimens have been found, pointing towards them being hunted for their scales long ago.
| | |
| --- | --- |
| Release Date | 04 August 2013 |
| Rarity |  Common |
| Variations | No variation |
| Alt Rarity | No alt |
| How To Obtain | |
| Type | Dragon |
| Affinity | ? |
| Sprite | Infernette |
This egg has sharp spines sticking out from the top.
| | | | | | | |
| --- | --- | --- | --- | --- | --- | --- |
| 0 clicks | 10 clicks | 20 clicks | 30 clicks | 40 clicks | 50 clicks | 60 clicks |

70 clicks
This small hatchling tries to fly often, getting a few seconds more of flight each time. It shimmers in the sunlight and it often tries to eat your dinners.
Female
Male
100 clicks
Your hatchling has grown, and you can now tell what gender it is from the color it has become. It now cannot fly at all, and when it does try it often is very loud and does not get much lift at all. Its wing's membrane is scrunched up and very flimsy. It cannot get along with your ribbon dragons, and often they get into showy fights.
Female
Male
150 clicks
The adult before you is a peculiar dragon, with very flimsy and furled wings that do not let it fly very well. It often steals food from the kitchen in the castle, and it does not enjoy being near any of your ribbon dragons. It has the tendency to try to show off its frills to your other dragons, though they mostly ignore its warning. It has tried to bite you multiple times, but its teeth are too small for it to effect you.
Community content is available under
CC-BY-SA
unless otherwise noted.